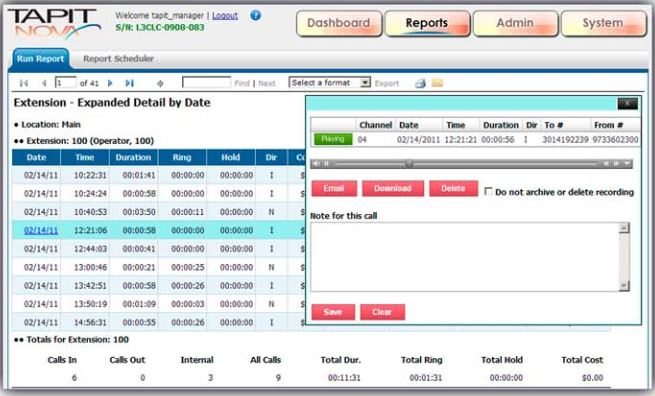 Recording phone calls has never been easier!
It's important know what is going when it comes to employee use of your company's telephones. We already know this, but do you? It's also the reason that we are the leader in telephone recording software products such as Replay — the ultimate low cost call recording solution, which offers the best solutions in call recording software, equipment and pbx call recording.
Some of the reasons to record telephone conversations:
Quality Assurance
Regulatory Compliance
Dispute Resolution
Sales Verification
Safety and Security
Employee Training and Development
Replay Call recording solution together with TAPIT Call Accounting is an invaluable tool for your business.
Our many telephone recording products are used at more than 30,000 facilities, ranging from "mom-and-pop" to Fortune 100 companies. Vertical markets span school systems and leading universities, insurance and banking, hospitals and government agencies, hotels and assisted living facilities, non-profits and retail. And you can be confident that we offer unparalleled support, for products that are easy to use.
Why is recording phone calls important? The answer is that payroll is the largest expense for most businesses. For many, telephone costs are very significant. On average, over 22 percent of telephone calls made during business hours are not business related, which is what makes call recording systems invaluable to guard against lost productivity, lost revenue, and higher telephone costs.
How can we help you when it comes to recording phone calls? Because we have delivered services that are effective and affordable since 1984. We are ready to provide you with the solutions to address compliance, call center performance, security and remote workforce supervision. We help management improve customer service, employee productivity, and ultimately increase the "bottom line".
What can call recording systems help with? The many ways are invaluable in helping different businesses to achieve their goals. Included among them are quality assurance to assure employees are offering friendly customer services, for documentation in resolving disputes, safety and security, regulatory compliance, sales verification to confirm any offers made, and for employee training and development.
Do you know that we are breaking new ground with Replay? This is because this family of affordable call recording solutions delivers high quality digital call recording at a price affordable to any business. Phone call recording software address a wide range of business needs such as resolution of customer disputes, sales verification, quality assurance and more. While some regulations do not specifically require that phone calls be recorded, call monitoring can be used to settle a legal action against a company, saving tremendous waste of time and resources.
Is this important to everyone? Yes, because contact centers supporting retail banks, insurance companies and other industries are often required to record all customer interactions and retain those records for a lengthy period. Failure to comply with these requirements may result in severe fines from regulatory authorities, as well as damage to company's public reputation and call recording sip can help address this.